In a blue mood: Mick Jagger and Keith Richards.Photograph: Polydor Records/PA
Jagger and Richards were blues fans when they met, and 50 years on the passion has endured. Learn about and listen to all the originals on their new covers album.
The origin story of the Rolling Stones involves two albums –
Rockin' at the Hops by Chuck Berry
and
The Best of Muddy Waters
– that Keith Richards spied Mick Jagger carrying on a Dartford Station train platform in 1961. They struck up a conversation and discovered they shared a mutual love of the blues.
"I thought I was the only guy in the south-east of England that knew anything about this stuff," Richards recounted on a recent Netflix documentary.
The Rolling Stones announce new album, Blue and Lonesome
The chance meeting had long ties to Chicago. Both albums were on the Chess label operating on South Michigan Avenue and one song from the Waters LP, Rollin' Stone, would give the band its name.
The Rolling Stones would spend their early years covering the elder statesmen of Chicago electric blues and eventually making their way to Chess to record an album of their own.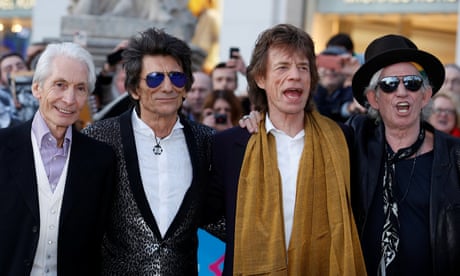 Fifty-five years later, the Stones entered
British Grove Studios
in west London and kicked out a new album in three days. Blue and Lonesome will be released on 2 December, making it the band's first studio album in over a decade. It also shows the quintessential rock band circling back to their earliest inspiration. Nearly all 12 songs are covers by Chicago blues artists – and they're not the obvious hits. Instead, the Stones go deep with a songlist that favors expression over expectation.
Just Your Fool – Little Walter
Settling in Chicago from Louisiana in 1945, Marion Walter Jacobs became Little Walter, the king of postwar harmonica players. Whether serving alongside Muddy Waters or on his own solo recordings, Walter gave the acoustic instrument an entirely new vocabulary using electronic distortion and other effects wrangling that compounded the heavy menace in the music.
Commit a Crime – Howlin' Wolf
Standing well over 6ft and with a vocal rasp to shake the timbers, Chester Burnett was an otherworldly figure who originally recorded for Sam Phillips at Sun Records in Memphis before settling north. The Stones have covered his songs for years but never this one. Directed to a woman who just poisoned the coffee, Wolf says it won't work because "it just was not my time".
Blue and Lonesome – Little Walter
Here's the album's title song, a 1959 solo classic by Little Walter, a gut-wrenching tale of sorrow where he sings of casting his troubles in the sea so "the whales and the fishes have a fuss over me".
All Your Love – Magic Sam
If Chess was south side, Magic Sam was west side. His distinctive guitar playing defined the west side sound by using tremolo and going beyond the 12-bar blues structure. The Stones cover this debut single from 1957 on Cobra.
I Gotta Go – Little Walter
This is blues as early rock'n'roll, a chugging boogie rocker from 1955 featuring Walter's harp tremors and vocal train whistles.
Everybody Knows About My Good Thing – Little Johnny Taylor
Detouring from Chicago is this 1971 R&B hit by Little Johnny Taylor, a former spiritual singer turned soul man. This is honeyed southern soul, with gospel-colored testimony, a horn section and a lyric about the ultimate wrong.
Ride 'Em On Down – Eddie Taylor
Taylor is another Mississippi native who found his way in Chicago after the war. He never achieved the fame of his contemporaries and his hits were mainly local, including this one on Chicago's Vee-Jay Records from 1955.
Hate to See You Go – Little Walter
Bo Diddley plays guitar on this Chess single from 1955 by Walter, a rewrite of an early Bo tune and featuring a descending guitar hook and a pounding beat.
Hoo Doo Blues – Lightnin' Slim
Lightnin' Slim was a guitar ace and master of minimalism who spent his teen years in Baton Rouge where he recorded throughout the 1950s. His weary, gentlemanly voice rolls through this swampy, mid-tempo blues from 1958.
Little Rain – Jimmy Reed
Jimmy Reed recorded for Chess rival Vee-Jay, also on South Michigan Avenue, where he became a major hitmaker in the mid-to-late 1950s. The Stones have long covered his songs and the newest is this 1957 original, a creeping blues Keith Richards described as "haunting" with "melancholy dissonance" in his autobiography.
Just Like I Treat You – Howlin' Wolf
This playful barroom rocker from Howlin' Wolf was written by Willie Dixon, the house bassist and songwriter at Chess and features wordplay aiming to capture Wolf's lighter side.
I Can't Quit You Baby – Otis Rush
This is another Willie Dixon original, this time featuring guitar slinger Otis Rush, who made the Chicago trek from Mississippi in 1948. This is his first single from 1956 and, preceding the Stones, Led Zeppelin featured it on their 1969 debut. Unlike the rest of the blues artists represented by this Stones album, Rush is alive. He's 81.


UNITED PHOTO PRESS
Carlos Alves de Sousa