Jae West, a campaigner and survivor of an eating disorder, undressed to her underwear and stood in Piccadilly Circus on Sunday afternoon in a stunt aimed to encourage body acceptance.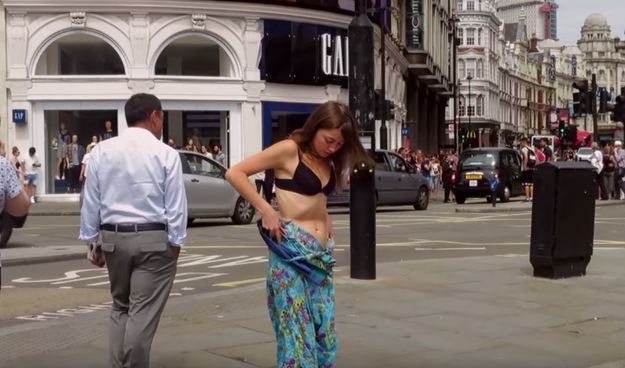 West, from Perth, Australia, says she had an eating disorder throughout much of her life.
For her stunt, she blindfolded herself and held a sign that asked strangers to draw on her body.
In an effort to show how critical girls and women can be of themselves, West said she wanted to link the "vulnerability of nudity" with self-esteem issues in a public setting.
"Body image and self-acceptance is something that I have always been passionate about endorsing after experiencing an eating disorder myself through high school and my early twenties," she added.
"The unrealistic expectations we place on ourselves can cause us to reject the love that others openly give because of a feeling of unworthiness."
The sign she held asked people in London who had also struggled with eating disorders and body acceptance to draw a heart on her bare skin.
Soon enough, girls and women began to approach her as she stood in the busy tourist spot.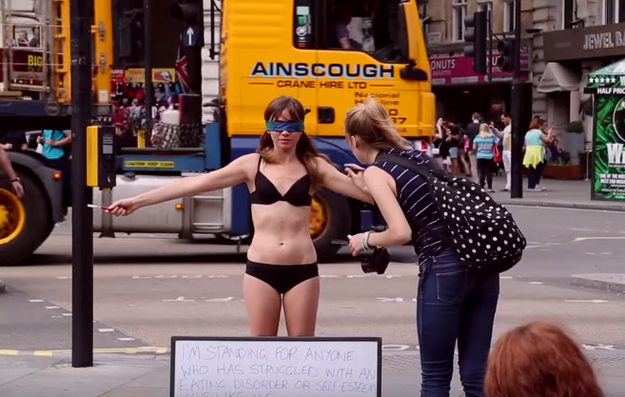 When onlookers began to pick up pens to draw love hearts on her body, West said she felt an "overwhelming sense of relief."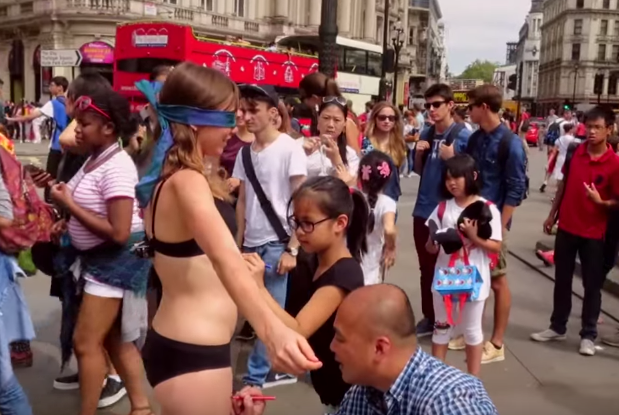 "I just burst into tears… After that first love heart was drawn it felt like others were liberated to follow suit because soon all the pens were leaving my hands at a rapid pace!"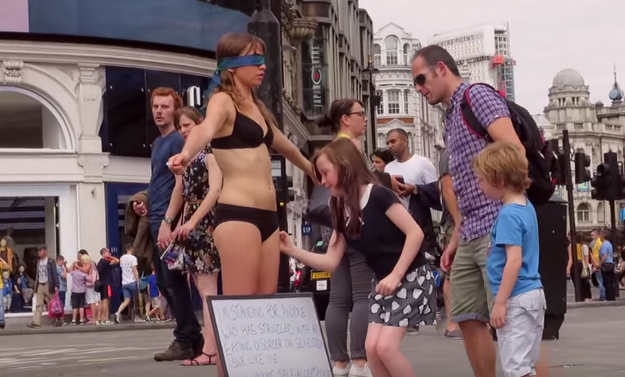 She believes that her stunt to encourage self-acceptance could help those with eating disorders and self-esteem issues around the world.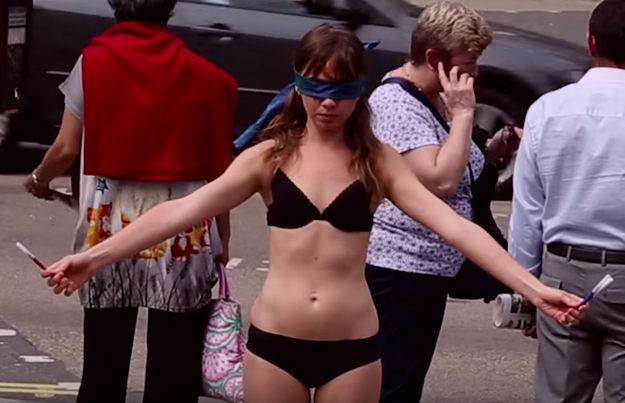 West, a campaigner with The Liberators International, wrote about her experience in a
blog post
:
"As I stepped onto the streets of Piccadilly Circus with white board and markers in one hand and blindfold in the other, I couldn't help but feel an overwhelming sense of vulnerability at what I was about to do.
As my clothes fell to the ground and I placed the blindfold over my eyes I could feel a shift of attention and confusion stirring in the air… I was scared that no one was going to draw a love heart on my body and I was going to be left out there in the open in my underwear on show to be ridiculed.
If everyone could know and appreciate how beautiful they are from childhood I think this world would be a very different place."


You can view the full video of West here: