Amazon US store
.
Equipped with Fn function key
Equipped with Fn custom function buttons , reasonable allocation of <Fn> buttons can quickly call up a function menu or perform a shortcut operation, which improves the efficiency of creation.
Small and light
The maximum diameter and length of the lens is about 67 × 72mm , and the net weight is only about 295g . The lightweight design is convenient for daily carrying and long-term handheld shooting and video recording.

Equipped with quiet CNC stepper motor

Compared with traditional DC motors, digitally controlled stepping motors ( DSM ) have quick start-stop response, high focusing accuracy, and quieter focusing action, which is suitable for photo shooting and video recording.

F2 large aperture

Flexible use of F2 large aperture, easy to obtain soft blur effect, can also use low sensitivity and higher shutter to shoot in low light environment.
9 optical lenses in 8 groups, nano multilayer coating

It adopts 8 groups and 9 -element optical structure design, and the lens nano-multilayer coating process, which effectively improves the light transmittance and suppresses the ghost image and glare of backlight .

Aspheric lens

Mounted . 1 aspherical glass lenses, various aberrations effective compensation.
Low dispersion lens

Using 1 Mei low-dispersion glass lenses, to better suppress the wide dispersion problems arising.
7 circular aperture blades

The design of 7 circular aperture blades can produce circular diffuse spots, and the aperture can be reduced appropriately to produce 14 starburst effects.


USB firmware upgrade

Equipped with a USB Type C interface, you can download the latest firmware to upgrade the lens to keep the lens at its best performance.
Metal bayonet, gold-plated contacts
The use of high-precision metal bayonet and gold-plated contacts effectively improves signal conductivity and corrosion resistance, and is durable. At the same time, it allows the camera and lens to maintain reliable communication, and realizes functions such as autofocus, aperture control, and EXIF information transmission.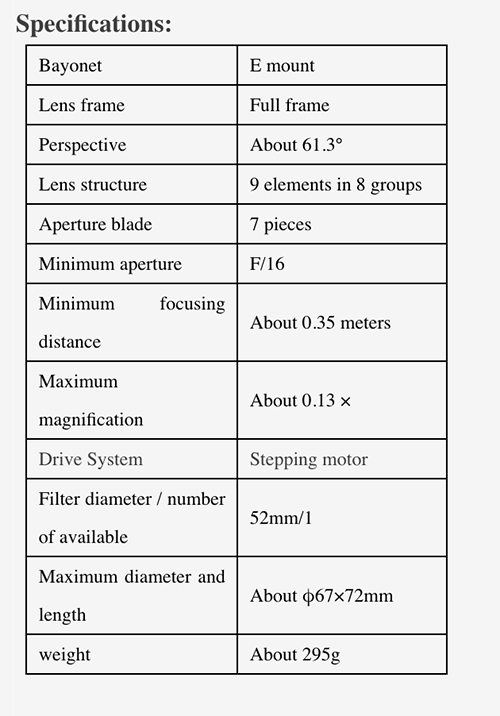 Yongnuo 50mm f/1.8 FE autofocus lens is in Stock for the first time at
Amazon US
,
Amazon DE
,
Amazon UK
,
Amazon FR
,
Amazon IT
,
Amazon ES
.