Street photography might be one of the easiest genres of photography to slide into — it's just you, a camera, and more or less walking around documenting humankind with an artistic flare — yet it can be quite difficult to progress beyond snapshot-looking images. This article will explore tips for improving your street photography using nothing more than a smartphone.To demonstrate, I am using a vivo X60 Pro+ device, which sports an imaging system co-engineered with ZEISS.
Why Use a Smartphone?
We've all heard the phrase "the best camera is the one you have with you," which is true, but a similar approach would be that the best camera is the one you are most familiar with. I'm willing to bet most people reading this use their phones far more than any other electronic device in their daily lives. We know how it feels, we know exactly where the buttons are and how to tap around all the functions, and we even use the camera app a ton whether we're taking "serious" photos or not.
Photo shot on the X60 Pro+. Photo by Ted Kritsonis.
For street photography, the smartphone blends in better than any dedicated camera could, it's pocketable, and yes, it's always with you. All of the above are big bonuses when it comes to the genre grounded in spontaneity and finding genuinely unique moments.
In the case of the vivo X60 Pro+ that I'll be using throughout this article, it even has four optical focal lengths for immediate lens switching (14mm, 23mm, 50mm, and 125mm), a ZEISS co-engineered camera system, takes high-quality images up to 50 megapixels in standard shooting mode and 100 megapixels in high-resolution mode, and has some of the best low-light capabilities I've seen from a smartphone.
Photo was taken with the ultra-wide camera in night mode on the X60 Pro+.
Shot on vivo X60 Pro+ by Alen Palander.
Previsualize Your Shots
Some of the best street photography is from split-second instances that can't be entirely pre-planned, but that does not mean you can't be ready for them. One of the best ways to improve street photography today is by breaking down a shot into steps.
Even though you don't know what exactly will happen within the photo yet, you can still find the right framing before it happens. Within a city, there are countless leading lines from manmade architecture, elongated shadows and light being controlled from standing structures, and new colors on every block.
Photo shot on the X60 Pro+. Photo by Ted Kritsonis.
By observing these details, you can begin building on them by adding the spontaneous elements that fit into your vision. The leading lines you found can converge on a subject that happens to walk into the frame. The elongated shadows can fill the frame but when someone steps into the light, they strikingly stand out in contrast. The bright yellow wall you found is now the perfect backdrop of color needed to accentuate the red raincoat and umbrella of the person walking in front of it.
You can't predict the missing details of a street photo, but you can observe your surroundings and come up with a plan for what would work best when it does happen.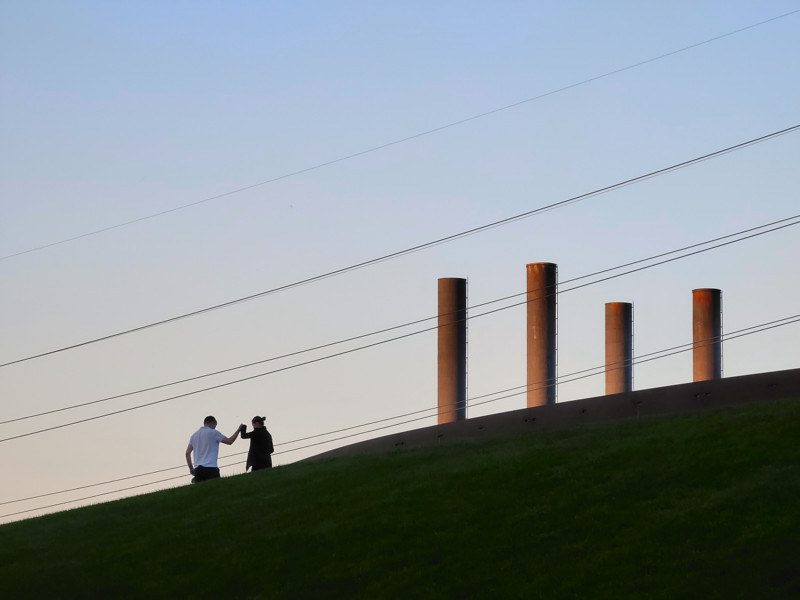 Photo was taken with 5x optical zoom on the X60 Pro+.
In the photo above, I had thought about this composition well before there were any people in the frame. I liked the simple, strong graphical elements given to me by using the X60 Pro+ 5x zoom camera, but it was missing a true subject to it all. I waited to see what would unfold if I stood there for a few minutes, and sure enough, I got this. The man is assisting the woman down a large step, but it almost looks like they are dancing too. Either way, it was pleasantly posed for a split second but I was ready for it due to previsualizing the scene and what I wanted out of it.
Photo shot on the X60 Pro+. Photo by Ted Kritsonis.
Photograph the Story (or Make One Up)
The most important aspect of good street photography is that other people recognize why the photo was taken. It might sound silly, but think of how many photos seem to be snapshots showing something in the frame but don't actually say or mean anything. Photos need a story just as much as a novel does.
Photo shot on the X60 Pro+. Photo by Ted Kritsonis.
There's a difference in story between getting close and photographing a pair of nice heels behind the window display outside a store and photographing them with the reflection of a person glancing at them in the glass. The first photo is lacking a reason to exist, whereas the second one can lead a person to all sorts of imaginative backstories on that person's life and desires. This is just one cliche example, but the point is that you don't want to fall into the trap of photographing "things." Try and find a story about your thing or make one up (that person glancing yearningly over at the shoes was probably just checking that the hat they were wearing wasn't crooked in the reflection).
Photo was taken with 2x optical zoom on the X60 Pro+.
Photo taken with the ultra-wide gimbal camera on the X60 Pro+.
Take the Shot
Honing in on your intuition is one of the best skills to have as a street photographer. For a genre based in capturing authentic moments in time, being able to take an image before your consciousness has time to reason with why can be an asset. Not to be confused with the "spray and pray" method, what I mean is that the visual world around you feeds you with information that your gut instinct understands before you have time to mentally process it.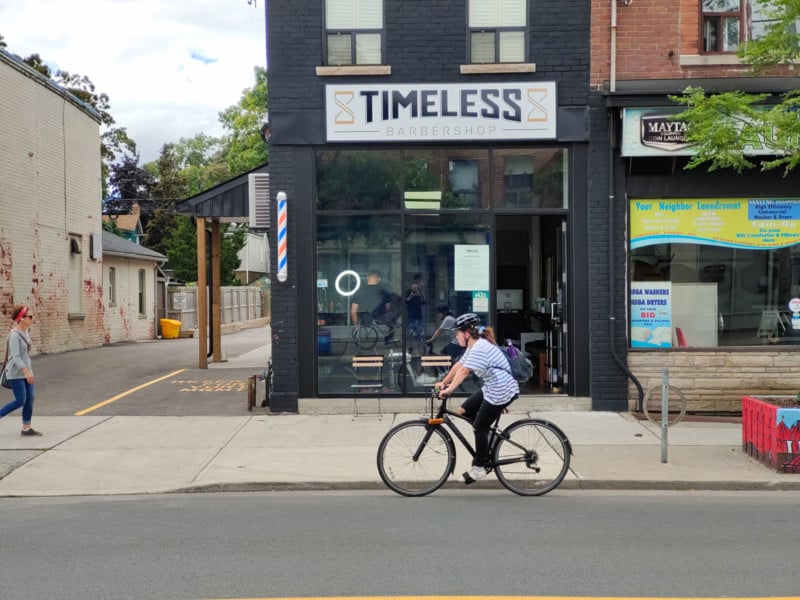 Photo shot on the X60 Pro+. Photo by Ted Kritsonis.
With one glance you can tell when a location is photogenic with symmetry or contrasting colors, and normally you would then take it to the next step of finding a composition that shows it off best, as I discussed earlier. With street photography, it's good practice to shoot now and afterward work out those ideas more if you need to. More importantly, however, you never want to miss the shot that you instinctively knew was there the moment you saw it.
The yellow taxi parked during a rainy blue day in the city could drive off any second if you put more thought into what you immediately saw as a beautiful frame. Photographing on the streets is ever-changing and never exactly the same twice, so don't let your mind get in the way of a great photo.
Photo was taken with the ultra-wide gimbal camera on the X60 Pro+.
Photo shot on the X60 Pro+. Photo by Ted Kritsonis.
This 100-megapixel photo was taken in high-resolution mode on the X60 Pro+.
Submit Your Best Work to vivo VISION Plus Photo Awards
Took any street photos you are especially proud of? The vivo
VISION+ Mobile PhotoAwards 2021
call for entries is open until September 30th, 2021. The competition features 33 awards in different groups and categories, including Portraits, Night, Sports, Nature, Life, and Places.
To learn more about VISION+ Mobile PhotoAwards 2021, visit the official website
here
.
Photographs by Ryan Mense