A month ago or so, before High End Munich 2022 we got an unexpected message from dCS, asking if we would be interested in joining a highly secretive new project. Knowing dCS and the high-end quality they provide, I didn't have to think very long to say "yes, please". Even though I had no clue what it would be about, I took the change and boy am I glad I did. Thank you dCS for the opportunity!
Today is the day that dCS is revealing the new Lina headphone system to the world. It has been a very well-kept secret in the community and googling "dCS Lina" up to today, simply gave zero hits.
I just got back from High End Munich where dCS told me the launch would be today, so in this mini article we are previewing the new dCS Lina DAC, AMP and Clock. I will try to get the High-End Munich show report online in a week or so.
Let's check out the new dCS Lina setup!
dCS
If you're familiar with
dCS
, then you know that they engineer high end products for the top end of the market. dCS has mainly been focusing on the hi-fi market, but with the Bartok they also have a very good headphone product. For those of you that aren't familiar with dCS yet, here's a quick intro to the company.
We've been shaping the future of digital audio for over 30 years, developing unique products and technologies that have revolutionised music recording and playback. Founded in 1987, we started out developing digital converters for aviation and aerospace companies, before shifting our focus to digital audio. Over the past 35 years, we have developed a succession of pioneering products and proprietary technologies for music lovers and recording professionals – from the first ever high-resolution DACs and ADCs to the multi-award winning dCS Bartok Headphone DAC.
Our products are renowned for their outstanding technical performance, exquisite craftsmanship and profound musicality. Through continuous innovation, and an obsessive attention to detail, we create products that uncover the true depth and essence of recorded sound, and bring people closer to the music and the artists they love.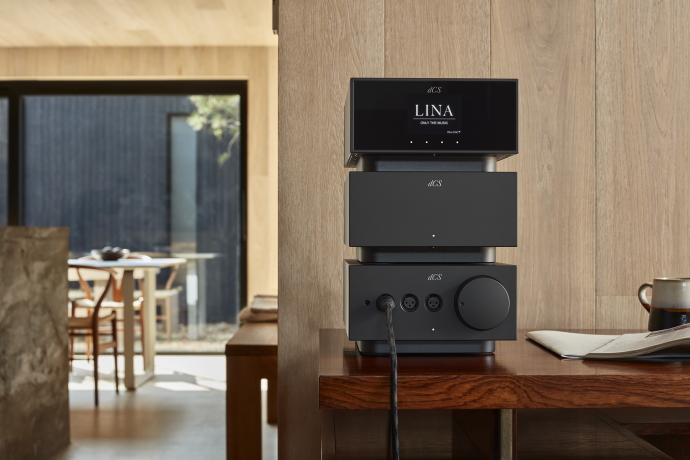 dCS – Lina
So, what is the dCS Lina? In short it is a brand new dCS system, purpose built for headphone listeners.
With Lina, dCS set out to create the definitive system for headphone playback – one that drives a huge range of headphones to their full potential and reproduces sound with every nuance intact.
The dCS Lina system consists out of 3 components: a dedicated Network DAC, a Class AB Headphone
Amplifier, and a Grade 1 Master Clock. It according to dCS "offers the ultimate sonic escape for music and head-fi connoisseurs".
The Lina system is DCs' smallest product series yet, and it is designed for use in a wide range of environments. Its state-of the-art circuitry, electronics and digital processing allow dCS to deliver a huge range of features in a compact format with zero compromise on sound and performance. The dCS Lina system is designed and hand-assembled in the UK and manufactured using the finest materials – including solid aluminium casing for enhanced performance with minimal vibration and noise. The dCS Lina system is created using proprietary hardware and software developed by dCS, such as their FPGA-based firmware.
Lina is an exciting new step in a journey that began over 30 years ago. At dCS, we've always strived to create products that bring people closer to the music and artists they love. Inspired by the rise of headphone listening, and the head-fi community's tremendous passion and enthusiasm, we have developed our first product range designed specifically for the dedicated headphone listener – a product that we believe sets a new standard for headphone playback. After over 2 years of intensive development and testing, we're delighted to be launching dCS Lina.
The Lina product range benefits from a suite of technologies that are unique to dCS, including the dCS Ring DAC™ and headphone processing platform, dCS Expanse. These technologies are the culmination of intensive research and development, and you can find out all about dCS' technical developments and achievements
here
.
The total price of this high-end system is €32.850 Euro including VAT. This clearly is a high-end product with a corresponding price tag, one we're not really used to in our headphone world. dCS is really targeting the top end market with this setup, a market that is used to seeing these kind prices (and more) from the high end HiFi world. At the same time, it's "easy" nowadays to attain such budgets. A high end amplifier like the Envy 300B (with upgrades), with the Musician Aquarius DAC and Abyss headphone with upgrade cable (just to give an example), also easily pushes you above the $20-25K mark.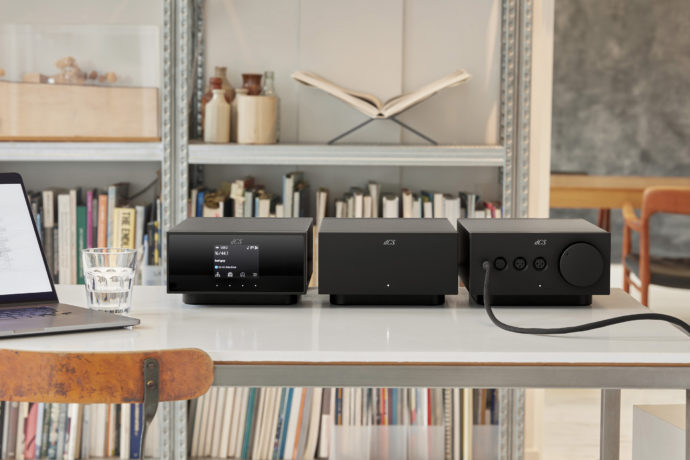 dCS – Lina – Components
As said, the Lina stack is composed of 3 full size desktop components: a DAC, a clock and an amp. You can link up the units for power control and there are multiple connection options with the DAC and clock. You can place the units next to each other or on top of each other (DAC -> Clock -> AMP top down).
The design is simple yet classy. The build quality is perfect as you would expect. I love the choice dCS made for the materials used, though the design is not really my thing. I for one prefer the Bartok type of design more, but these units are a lot smaller, fitting more in a desktop (headphone) setup. Do not that this is a heavy setup with all units weighing over 7kg. Make sure your desk is up to the task.
DAC
The Lina Network DAC design combines dCS' playback technologies – including the dCS Ring DAC and Digital Processing Platform – with new innovations, such as their first ever touch-screen display, a streamlined user interface, and a powerful flex-ridged circuit board.
The key features:Supports hi-res streaming via Roon, TIDAL, Qobuz, Spotify, Deezer, AirPlay and more
dCS Ring DAC system ensures sound is reproduced with absolute integrity, for a highly detailed, natural and deeply musical performance
dCS Expanse technology offers enhanced crossfeed optimisation for a more natural and immersive experience when listening to a wide range of stereo recordings
Flexible dCS Digital Processing Platform provides unlimited scope for future upgrades.
Touch screen UI with customisable menu provides seamless navigation [system can also be controlled via dCS Mosaic app]
The unit measures 121.5mm (H) x 220mm (W) x 339mm (D) and weighs 7.4kg
The price of the Lina Network DAC is set at €14.350 Euro.
AMP
This solid state, Class AB amplifier is engineered to drive a vast range of headphones – from planars to sensitive IEMS – to their full potential. With its low noise floor, wide bandwidth, vast dynamic range, and excellent linearity, it delivers all of the sonic benefits you'd expect from a dCS product and is designed to complement virtually any head-fi setup.
Key Features:Class AB design with DC servo system delivers high power efficiency and excellent linearity
Solid state design delivers consistent, clean performance
Solid aluminium chassis minimises the risk of electromagnetic interference for enhanced audio performance
Choice of inputs caters to a variety of sources and audio setups
Includes 3 headphone outputs. 1 x dual 3-pin balanced XLR, right and left channel. 1 x single 4-pin balanced XLR. 1 x single 1/4'' (6.35mm) headphone jack
Power output is the following:Balanced 2W into 30Ω
Balanced 0.48W into 300Ω
Unbalanced 1.6W into 30Ω
Unbalanced 0.2W into 300Ω
The amplifier measure 121.5mm (H) x 220mm (W) x 356mm (D) and weighs 7.5kg
The price of the Lina amplifier is set at €10.250 Euro.
Master Clock
The Lina Master Clock uses two quartz crystals to deliver a precise clocking reference for all audio formats and frequencies. When paired with the Lina Network DAC, it – according to dCS – enhances all aspects of sound – from detail and imaging to rhythmic movement and flow. Each aspect of its design has been carefully crafted to protect against factors that can interfere with clocking signals – ensuring long-term stability and the utmost accuracy during playback.
Key Features:Oven-controlled crystal oscillators (one for 44.1kHz based audio sample rates and one for 48kHz) ensure accurate clocking for all audio samples and frequencies.
Allows Lina Network DAC to be locked to a single master signal for enhanced audio performance
Minimises risk of jitter and timing irregularities which can affect playback.
Provides a significant increase in sound quality when streaming or listening via USB.
Standalone design with isolated chassis and power supply protects clock signal from external interference.
The dCS Clock measures 121.5mm (H) x 220mm (W) x 339mm (D) and weighs 7kg.
The price of the Lina Clock is set at €8.250 Euro.
dCS – First impressions
These are our very first impressions of the full setup used as a stack. dCS suggested to first use the units in the same setup, before using them with other gear in our collection, so I have done just that (even though I have sneakily used the DAC with the Headonia 2A3 and Envy amp). A setup of this importance and value of course deserves a lengthy full review and this one will be published in a few weeks around the holiday period.
As mentioned, the system is on loan, and it will go back to dCS at one point.
dCS Lina's tuning is neutrally musical. There is no added warmth or body, but the delivery is liquid and very musical. The dCS Lina stack is a very strong technical performer, and it's probably the best technical performing solid state amp I have ever heard. It's not the most neutral or flat sounding setup we've ever had the pleasure to listen to, but here it's more about the high technical performance combined with a lively, musical and super dynamic delivery.
The dCS Lina setup never becomes analytical or dry, but it's exciting and hyper precise at all times. It's a pure joy to listen to, no matter what headphones you hook up to it. (See later).
The overall amount of body and presence is good. You get a full sound at all times, but a natural one. The dCS stack connects subbass (so deep) to bass to mids and treble in a way you've never heard before. It's a rounded presentation, with the perfect amount of air, separation, and spaciousness. Soundstage-wise the combo, well trio, is very wide as well as deep. The layering is exemplary, and the positioning and 3-dimensionality are as good as it gets.
The note extension and decay also are very good and especially with high end headphones this is very impressive. The dCS stack plays well with both orthodynamic as well as dynamic headphones. In the high gain mode, the planars will get the most current and you will be impressed with the result.
I have been reviewing for over 10 years now and there comes a time when you think it's impossible to hear something better, and then this happens. Too bad I can't afford the setup myself, but it is so nice to experience this.
dCS – First impressions – Headphones
All headphones mentioned in this report have been used in balanced mode, using the XLR output.
Abyss Headphones sent me a new Diana TC to use with this dCS setup as they feel the synergy is magic. I have to say that I agree, but it took a few good hours of burn in for the TC to sound the way it should. With the dCS Lina stack, the TC sounds very wide, spacious and open, with impressive depth and layering. The detail retrieval is as you expect from a high-end combo, really good. I also like the 3-dimensionality, stereo image and positioning with this specific combo.
In fact, there isn't really a specific headphone that doesn't play well with the Lina setup. Two of my favorite headphones I am often using are the Meze ELITE and the Hifiman Susvara. On a slightly lower level, I also absolutely like the Beyerdynamic DT1990PRO's, and the Hifiman Arya Stealth's synergy with the Lina setup. The latter combo has some more warmth and presence, but it's so easy, soft and musical to listen to. The Beyer brings superb openness and hearth warming vocals to the party. The Beyer treble is extended, energetic and lively, but never sounds harsh or sharp.
You could perhaps think that the Sennheiser HD 800 (not the S) would sound overly detailed, wide and boring with such a high-end amp, but that's completely not the case. Even in low gain, the Lina amplifier handles it perfectly and delivers great dynamics and a highly musical presentation.
The Hifiman HE6SE also gets all it needs from the Lina stack, even though I have heard it sound "fuller" from amps such as the Violectric Niimbus US4+. This headphone is a bit trickier with the dCS stack, but that's more about personal preference than it is about driveability. I was expecting to see something new at the High-End show from HEDD Audio in the headphone department, but they couldn't say anything about it yet, leaving me a bit disappointed. Anyway, the HEDDphone synergy with the Lina setup is extremely good, and it could well be the best I have heard the HEDDphone sound so far. And that says a lot, seeing I have used it with many high-end amplifiers.
The Audeze LCD-5 – which was very present at the Munich show – also plays well with the Lina setup, but the synergy for me is not as great as with some other amps. I think the vocals are bothering me a bit with the LCD-5 in this setup. The LCD-XC on the other hand (pre-fazor) plays extremely well with the Lina. That other closed back flagship headphone, the Hifiman HE-R10P, also plays wonderfully with the Lina, and it delivers great fulness, spaciousness, note decay and overall extension. Each time I listen to this headphone I am blown away by it's technical excellence and the way it sounds so open for a close back headphone. The synergy with the Lina setup is also one of the better ones.
Conclusion
The dCS Lina setup is one of the very best solid state full systems I have ever listened to. I am not saying this because I was lucky to be selected or because we can keep the gear (we can't) or because it's expensive. It simply is very impressive in all possible ways. I am sure the different previews and reviews will tell you the same.
I don't think it will be easy to listen to the Lina setup at shows as only a select few "sellers" will be chosen by dCS, but if you do get the chance to listen to it, don't hesitate. It's a bit like with the
Sennheiser HE-1
: you don't want to miss a listening session with it as you rarely get that opportunity.
The dCS Lina is a high-end unit with a corresponding €32.850 Euro price tag, but if you want to experience one of the best solid-state performances I have ever heard, you better start saving up (big time).
Lieven
UNITED PHOTO PRESS