Audiophiles that might be reading this are most likely very familiar with Cary Audio, originally the brain child of Dennis Had who is something of a legend in our industry. The venerable Cary 805 Mono Block Power amplifiers are legendary, and the audio equivalent of the Lamborghini Countach and Ferrari 512 Testa Rosa. Many of us had a poster of one or the other car on our walls as youngsters depending of course on marque loyalty. If you were well heeled you had both posters. I had pictures of the 805s framed on my desk until I obtained the real thing for my stereo system. The performance, quality, fit, finish, and sound have held up well over the years and they are still one of the most beautiful pieces of audio art out there. Both visually and sonically they are stunning, eye catching and the sound is to die for. Suffice it to say the commitment to the art is very strong with Billy Wright, now running the entire operation after Dennis retired a number of years ago. Billy has handily taken the company to the logical next level. Another legend in the making! Go Billy!
This review is about the latest version of Cary Audio SLP-98P tube preamplifier with a moving magnet phono stage (hence the last P in the name). Five out of six of my cartridges are moving coil, but I do have a very nice Sumiko Moonstone that is moving magnet and I review MM cartridges from time to time. That makes the SP-98P a great fit for my needs.
This is a first for me I believe. I actually bought the preamplifier to mate up with my Cary 805 mono block amplifiers prior to even discussing the review. I wanted to mate the Cary preamplifier for a more symbiotic coupling with the amplifiers to maximize my tunes. I have heard the preamplifier in the past, but not the latest version until I bought it sight unseen. It has not been very often that I have bought something sight unseen that retails in the vicinity of $6-7k. Would I do it all over again? Yes, I would and would not even begin to second guess the decision. Thinking of it now is the best reason to examine the decision and the outcome. The following is the down and dirty answer to those two questions.
Cary Audio has been in business since 1989, and has always produced some of the finest audio gear in the industry. Is there more prestigious gear out there? Who can forget the Cary Audio 1610 two story amplifiers? One of these days I may possibly trade up. I know there is plenty of gear out there that is more expensive, but how much better would entail a vigorous debate, and it could be quite contentious but definitely arguable. From my experience you would definitely pay a great deal more, feature for feature, to even begin to render a Cary product to secondary status. My very first Cary product that I purchased was the Cinema DVD player, ,I bought primarily to serve as both a CD and DVD player. I still have it, and aside from needing a new infra red sensor it has never faltered in its ability to play any disc I throw in it. Cary products are stoutly built, the fit and finish is outstanding, and the sound they produce, as I have already stated, is absolutely superb.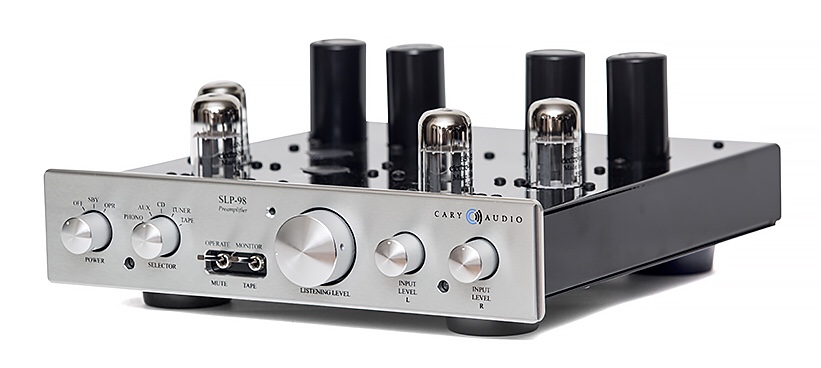 The SLP-98P preamplifier is only bested in the Cary line by the Cary SLP-05, which is a full two chassis affair. When I bought the SLP-98P my thoughts were focused on downsizing and ease of placement. It is a small unit for the main chassis with an outboard power supply. Very compact and elegant in look and feel, but huge in terms of performance and features. Let's get to the specs for that info right up front:Circuit Type: Class A Triode
Output: Rated 2 volts, 12 volts max
Gain: 20dB - Line Stage, 43dB - Phono Stage (SLP 98P only)
Hum and Noise: 88 below full output
Input Impedance: 50,000 Ohms - Line, 47,000 Ohms - Phono
Output Impedance: 440 Ohms
Frequency Response: 5 Hz to 163,000 Hz
Tubes: 4 ea. 6SN7 Line Stage, 2 ea. 12 AX7 Phono Stage, 2 ea. 12AU7 Phono Buffer
Power Transformer(s): EI Laminate, 200% Duty Cycle
Resistors: 1% Metal Film
Capacitors: Polypropylene Film with hand soldered copper terminals (optional upgrades available)
Power Supply Capacitors: 4 ea - 560 uF@400VDC
AC Cord: 2 Conductor, Detachable
AC Power Requirements: 117/234 VAC @ 50/60 Hz
Consumption: 44 Watts Operation
Warm Up Time: 3 Minutes
Break In Time: 100 hours of playing time
Finish: Anthracite black finish with silver or black faceplate
Weigh:t 22 Pounds
Dimensions: 5" H x 12.5" W x 12" D
Available UpgradesMundorf SilverGold Output and Coupling Caps
Hexfreds
Kimber Kable throughout
My unit has most, if not all the upgrades available, sans the Kimber Kable wiring. I wanted a built in MM phono stage since I do review cartridges that are MM from time to time.
As mentioned at the outset, there is a very good argument for the symbiosis that comes from components made by the same manufacturer, and the familial design DNA that just seems to make sense, and that is certainly the case with the SLP98 and its ability to seamlessly blend in the with 805 amplifiers and to bring the absolute best out of those amplifiers. It was when I replaced my old preamp with the Cary SLP98 that the system seemed to come into a whole new realm of sound quality. The preamplifier is perfectly mated to the 805 amplifiers. I can only imagine it would be stellar with any amplifier, especially with other Cary products. Someday when I am rich and famous I may upgrade to the CAD-211FE amplifiers or perhaps a set of well taken care of 1610s for more headroom. But, I will keep the SLP-98P because I just do not see the need for anything more than this.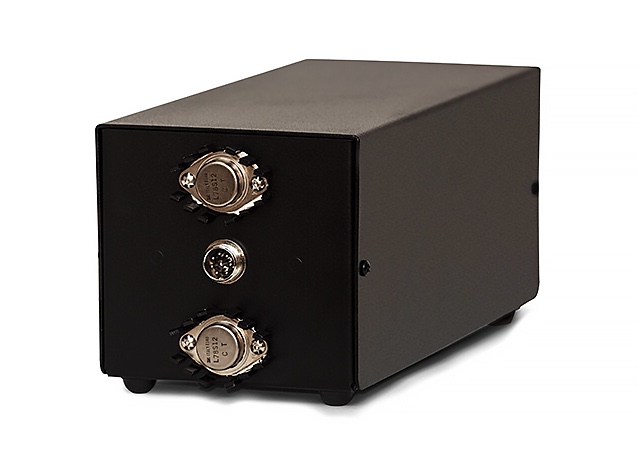 Setup is nice and easy and the main unit's smaller footprint (1 square foot) allows for a lot of flexibility and the outboard power supply comes with a reasonable long umbilical so it can be placed on another shelf altogether. I actually set my power supply below the preamplifier proper. This placement also gave the preamplifier and its 8 tubes room to breathe in the cabinet. That setup has worked just fine.
The fit and finish is superb. My choice was the silver face plate, and it is a very elegant piece. (My only complaint when buying was that the gold/champagne face plates are no longer available to match my amplifiers, boo….)
Controls are easy to use and logically laid out. On/Off/Standby on the left side with another rotary knob next to it for input selection makes for easy selections. The large center volume dial can be adjusted remotely (thank you Cary from all of us older people). In the middle is a mute switch and there is an identical switch for the Tape Monitor. Some find this switching method counterintuitive. On the right side are a pair of input knobs to balance out sound if needed. Overall it becomes very easy to use the SLP-98P in everyday listening.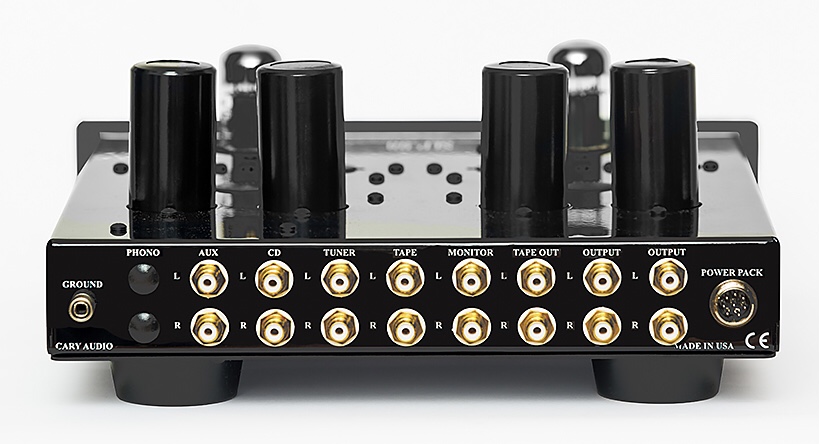 This is the first time that Cary Audio has built a unit around the venerable 6SN7GT dual triode. This is tech from back in the 1940s, and a great choice. Two of them are used per channel. Like the SLPs before it it is available with or without a phono stage. The unit I chose is the SLP-98P with the phono stage that adds a pair of 12AX7 for gain and a pair of 12AU7 tubes for buffering.
The other interesting part of this setup is the outboard power supply containing the transformer, a choke and a couple of large capacitors, a rectifier bridge, relay and other odds and ends. As stated before there is a sizable umbilical cord to link to the preamplifier chassis. Everything in the setup is hand wired point to point. Having visited the factory numerous times over the years, it is really a pleasure watching the team build and wire these units. The craftsmanship is world class and a clear source of pride for the Cary family.
A special note about the included MM phono stage. I found it more than just a bit convenient. It did a great job of handling my Sumiko Moonstone MM cartridge. As long as the cartridge has a relative high output it performs admirably. If you only run MC cartridges you will need a step up transformer to get enough oomph to use the phono stage. I have multiple phono stages for my MC cartridges so I did not try running any of them from the on board phono stage.
In then end, as with all things, Audio preference is an individual thing. I have listened to many, many top line preamplifiers. Most recently I have spent a good deal of time listening to Nagra's top tier preamp, no doubt at the upper echelon of available kit. Anyone who listens to the SLP-98 will come away with their own truth as to how well it fits their needs. For me it checked every box I was looking for. Exceptional quality, tube smoothness, plenty of inputs, and at an affordable cost. I am currently running two turntables (no microphone though. Get it?), a streamer, a reel to reel, and could still add on another component.
The SLP-98P is a very fine addition and distinctly musical. I consider myself a tube friendly audiophile (okay, maybe a bit of an understatement) and the Cary delivers the goods in a way I could only describe as truthful and faithful to the source material. Soundstage is broad, detail is pinpoint and depth is amazing. Speakers completely disappear. Air and vibrancy around all the players are the order of the day. It is that kind of delivery, along with incredible fit, finish and high quality build, with a price that is incredibly fair considering the components that have gone into it, makes it a very solid bargain and a preamplifier that should be on anyone's list who is shopping at this price level or even twice to three times the cost. I bought it and it was easily one of the best audio purchases I have ever made!
One of the first things that struck me about this preamplifier was during one of my first in-depth listening sessions. After about 40 hours of break in, as I will listening to "You Are the Music, We are the Band" by Trapeze from the album of the same title (Threshold Records THS-8). This was a pretty loud listen (as so much rock is meant to be). At the end of the first side my Tru Lift brought up the tonearm and there was an astonishing lack of sound. When I say lack, I mean stone silent! Not a whisper, zero tube hum, no line noise, absolutely nothing with my ear right at the speakers. Just blackness.
Glenn Hughes has an amazing voice and this is a performance that really cemented his legend as a singer with astonishing range. Some of the passages are a bit on the edgy side, and through certain amplification his voice can be painful and penetratingly shrill when hitting the really high notes. The SLP did a great job of knocking the harshest edges off. This made for a listening session that was delivered with tonal accuracy (like an opera singer breaking glass) with all the energy and sense of urgency he put into the vocals without the "nails on the chalkboard" effect I have heard with other gear before. The SLP smoothed it out without taking anything in the way of the dynamics and in your face nature of his singing. Amazing difference in how the overall presentation sounded.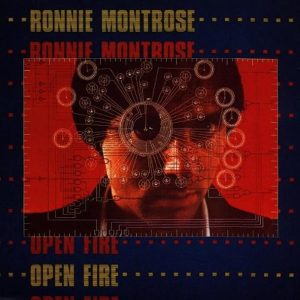 While in a bit of nostalgic mood for good 70s era hard driving rock, I pulled out Ronnie Montrose's album Open Fire (Warner Brothers RSK 3134) and the opening five songs on side one are almost one long tune. It starts with the spacey sounding, orchestral "Openers," drifting into "Open Fire," a flat rock and roll classic that screams right into "Mandolinia," which is reminiscent of the Who's use of synths in "Won't Get Fooled Again." The finale, "A Town Without Pity" is a lilting and lovely remake of the classic Gene Pitney 1962 theme song from the movie of the same name. Full of soaring guitar work over a very subtle orchestra underpinning. I consider this to be Ronnie Montrose's finest performance. What a talent, and greatly under appreciated as the melodic master that he was. The first side ends with the incredible acoustic "Leo Rising," which smacks of some early Jimmy Page acoustic work, and it is a thing of beauty.
This particular album was produced by Edgar Winter and engineered by Dick Bogart. Primary musicians besides Ronnie were Edgar on keyboards, Ronnie Shlosser on drums, Jim Aclivar handling sequencer programming and co writing, and Alan Fitzgerald on bass. The time of the total suite is approximately 14 minutes of non stop thrill ride. The guitar work is inspirational, melodic with a sense of fierceness, and the SLP delivered it without breaking a sweat. Balanced, front and center guitar, and all other musicians in the proper space. I could also see an elevated orchestra behind the cabinet that holds my gear. This is the best my system has sounded thus far, and it made it a joy to pull out these albums for a fresh listen. Drums were impactful. The kick drum felt at times as though you were hit by cannon fire. Cymbals had a natural ring to them and a very realistic decay compared to live. If you have never heard this album may I suggest you purchase a copy. I doubt you will regret it. To this day one of my favorite all time albums, and well worth the listen. It will tell you a lot about your system's ability to handle huge dynamic swings. The SLP handled every bit of it with missing a step anywhere.
Up next I thought it would be good to change up things and went right to Luther Vandross' breakout album Never Too Much, Epic FE 3745. The title song is a rollicking soul/pop love song. Great melody and catching lyrics. Supported by Buddy Williams on drums, Marcus Miller on bass, Nathaniel Adderly Jr. on keys, Steve Love on guitar. There is also a great a string orchestra joining in for flavor. What stood out on this track was the velvety texture of Luther's vocals. It's little wonder that he rocketed to superstar status on the heels of this recording. Range, control to die for, and just unwavering smoothness. The SLP delivered him as though he was back among the living and singing in my audio room. The rhythm guitar provided by Steve Love was a thing of beauty. His strumming was crystal clear, and very consistent in terms of applied pressure of each stroke. A great system will show every misstep of a guitarist. Steve's playing is flawless, in the way he never wavers. No fireworks just pace and tempo like a metronome. It actually jumped out at me for the first time. So much so that I played the track a few times, as I simply don't recall every hearing it this clear and present. It wasn't distracting in its place, but rather just noticeable how perfect it was for the first time. It also reminded me of how the world at large is worse off for losing Luther at such a young age.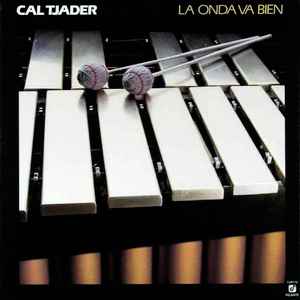 I followed up with an album by Cal Tjader, La Onda Va Bien (Pure Audiophile Records PA-600 2.) This is a double album on 180 gram vinyl, and recorded for 45 rpm from the original tape masters from 1979. The first track "Speak Low" had Cal on his vibes with Mark Levine on piano, Roger Glenn on flute and percussion, Vince Lateano on drums, Rob Fisher on bass, and Poncho Sanchez on congas and percussion. This is a limited edition album with outstanding sonics and very well balanced engineering. Every musician takes a turn with some solo work. Each is elevated to the same level as Cal when soloing, and the presentation is smooth and creamy. Every instrument on this recording is clearly present in its own space with plenty of air between the musicians. The music builds throughout, and the pace is furious. It is clear that each of these performers are masters of their craft. The soundstage is very precise and broad. The most stunning aspect however was Vince's drums. Within the soundstage and placement the drums were to the back and right. What was not common and was wholly unexpected was the fact that the ride cymbal was delivered as slightly in front of the snare drum. That is an extremely accurate reproduction of the drum kit. The fact that I suddenly heard that slight difference in placement of part of the kit threw me a serious curve ball. I don't recall ever hearing that significant split in placement anytime before. The drums always seem to be properly placed and each of the drums or cymbals are always clear from side to side, but I simply have never heard that front to back of the kit so clearly before. Unfortunately Cal died three years after this recording while on tour from a massive heart attack. It certainly is a fitting album for one of his final recordings. The SLP just delivered the goods on every level. All I can say is wow!
I finished the LP part of this with a play of Rimsky-Korsakoff's Scheherazade performed by Fritz Reiner and the Chicago Symphony Orchestra, (Living Stereo LSC-2446). Scheherazade is something of a cornerstone of classical music, and there are many different recordings. This recording is arguably one of the best. There are some that have suggested that this performance, along with others, be put on a five to ten year moratorium since they might be overplayed. I say nay to that. Great musical compositions deserve to be recorded periodically by different performances to render the nuances that come from different venues and orchestras to provide as much diversity of performance as the market will bear. I have gone on record more than once saying that I was not a classical music lover. Over the past ten to twelve years recordings like this one have moved me closer and closer to the lover side of the equation. Every aspect of this recording is just superb. Rhythm and pace are outstanding. The swells and drops in music are palpable and emotive. Of special note within the record is the performance of the guest violinist Sidney Harth. His performance is just inspirational. Exceptionally smooth and precise with an appropriately delicate touch. In the midst of the bombastic nature of many parts of this performance the tone of flesh on the strings still came through during his solo takes. The SLP delivered every bit of the music in its entirety without interjecting any of its own personality. While the term "neutral" is ubiquitous in this filed and not always associated with the "warmth" of tubes this is as good as it comes to the neutrality of playback. I felt like standing to applaud at the end of the first side.
While my listening notes are all pulled from vinyl sessions that were the primary source for the most critical listening, I also spent a good deal of time streaming music, and running a number of my reel to reel tapes through the system. The Cary SLP-98P handled every bit of other sources in the same way it handled the vinyl. That is to say, close to flawlessly. This preamplifier came incredibly close to being completely neutral. Some will say that tubes never render a neutral sound, but that is just not true. It may not measure on the bench that way, but to my ears it was as close as I have come in my own system to that hallowed ground. Yes there is an inherent tube warmth, but it is also so subtle as to not draw attention and focus away from the pureness of the music. There is nothing remotely perfect in the arena of audio gear. Everything must give way to some types of compromises, no matter how small. Much like it goes with hand grenades and horse shoes, "close" often counts for the big points. So it goes with the Cary audio SLP-98P. I will gladly trade that slight warmth for ease of listening, low fatigue, and exceptionally high fidelity that delivers an incredibly satisfying listening experience. Detail, massive soundstaging, depth and breadth of the soundstage. Thanks to the absolute spot on mid range, vocals are creamy smooth, especially female vocals, and the SLP-98P delivers them in a way that drags listening sessions from a couple of hours at a session to a full day long event. Upper frequencies are delivered with sparkly, sizzle and realistic decay without and annoying edge or shrillness. Bass slam, while never being a strong suit of 300B tubes, is very present with the addition of the 845 tube in the mix. I continue to be impressed to this day with the level of bass depth and slam that I get from my 805 amplifiers and the SLP-98P just conducts everything so smoothly to the amplifiers that it all blends into a seamless delivery of audio nirvana
As I said earlier on in this review I have not had a single regret about buying the SLP-98P. It has proven to be a very high performing preamplifier and one that I plan to live with till I move on to the next phase of existence. It would take me winning a mountainous lottery to think of replacing it with anything. At that point I would go out of control on everything including building a specific listening room with room correction built in to the room. Since I do not see that happening to me I am quite content to live out my life with my current amp and preamplifier setup. Thanks to Billy and all the great people at Cary for providing me with so much musical joy. If you are looking for an absolutely stellar tube driven preamplifier and want the biggest bang for the buck you simply cannot beat the SLP-98P without spending double the money or more and even then I would not bet against this preamplifier being out performed at even at the increased cost. As my friend Tony says, "Come get ya some!"
SLP-98P Preamplifier
Retail: $5495 before any upgrades.
Cary Audio
6301 Chapel Hill Rd.
Raleigh, NC 27607
919.355.0010