Finally, there is a larger edition of the excellent Jern. And with absolutely wild luxury components.
Munich is the world centre of hi-fi these days. First and foremost at the MOC exhibition centre, where High End 2022 is taking place, but also elsewhere in the city. At the nearby Marriott Hotel, they've set up a mini-fair called HiFi Deluxe.
Here you can meet Danish Jern (Iron) Speakers. We have previously tested Jern 14 DS, which distinguished itself by a particularly clean and resonance-free reproduction. This is partly due to the cast iron cabinet material. The name Jern 14 simply means that the speaker is made of iron and weighs 14 kg.
From this it is not difficult to guess the weight of the new model, the Jern 35, which has just been presented in Munich. The cabinet looks like a larger version of the Jern 14. The special "Barbapapa" cabinet is created to minimize diffractions.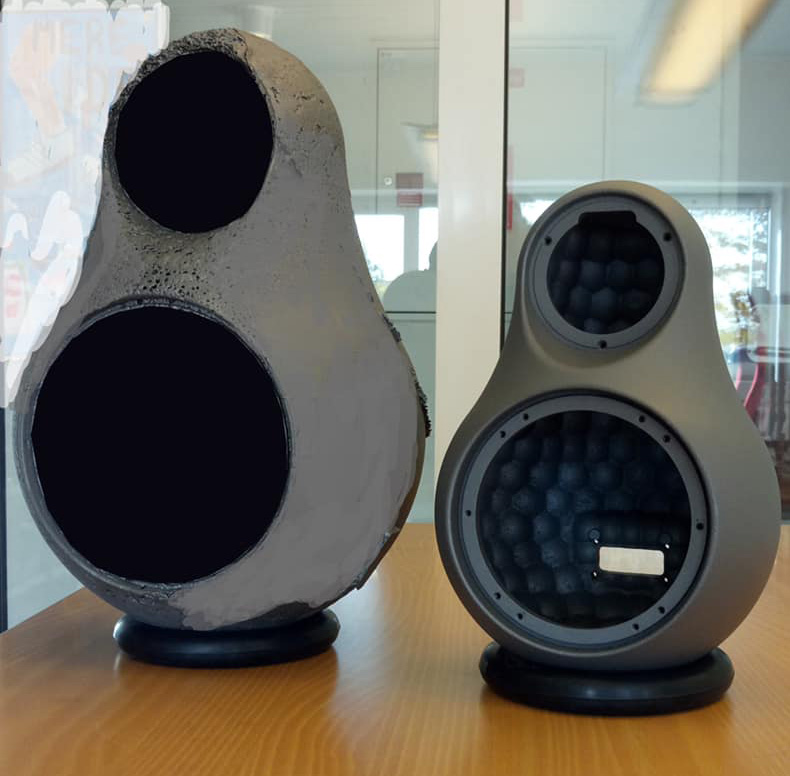 The new model (tv) is a larger version of the Jern 14. (Photo: Jern Speakers)
The larger cabinet allows for a larger woofer – and potentially deeper bass. And the units in the Jern 35 are out of the ordinary. the 6.5″ woofer is from Danish Puri-fi, and easily recognizable by the "curly" surround that gives the unit an extra-long linear diaphragm excursion. It's a special edition, made just for the Jern 35, where the small cabinet presents challenges. According to Ole Lund Christensen from Jern, they have managed to get good bass – and still maintain a "fairly respectable" efficiency.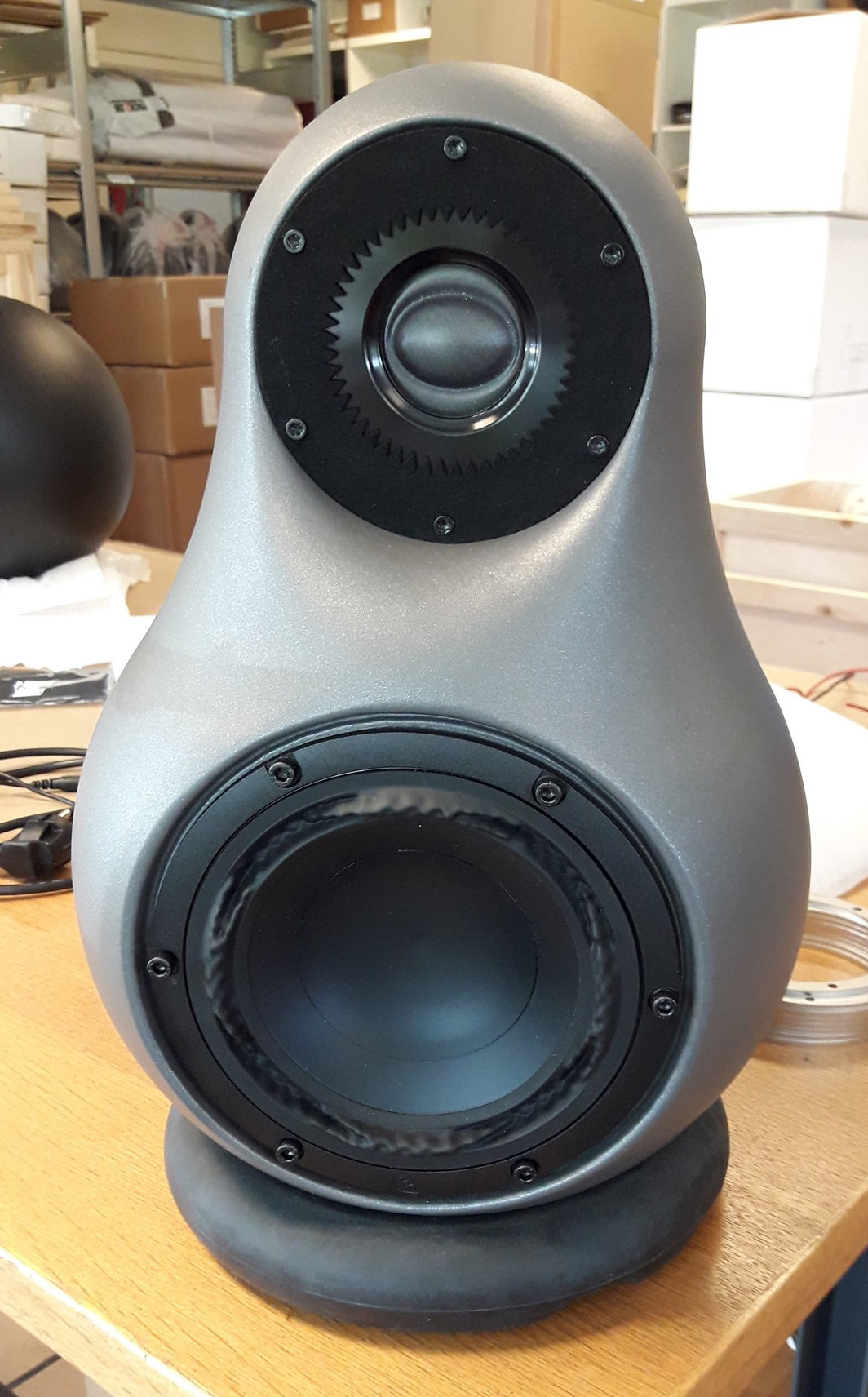 The speaker units are Danish, expensive and very special: a special version of Puri-fi's 6.5″ woofer and a Scanspeak Elipticor tweeter. (Photo: Jern Speakers)
The tweeter unit is also special and Danish, namely Scanspeak's Elipticor dome, which we've only seen in frightfully expensive speakers so far. And yes, we also think the unit should be rotated 90 degrees for better horizontal sound dispersion. But Ole Lund Christensen insists that it should be turned like that – so you still get good treble, even if you slump down on the sofa.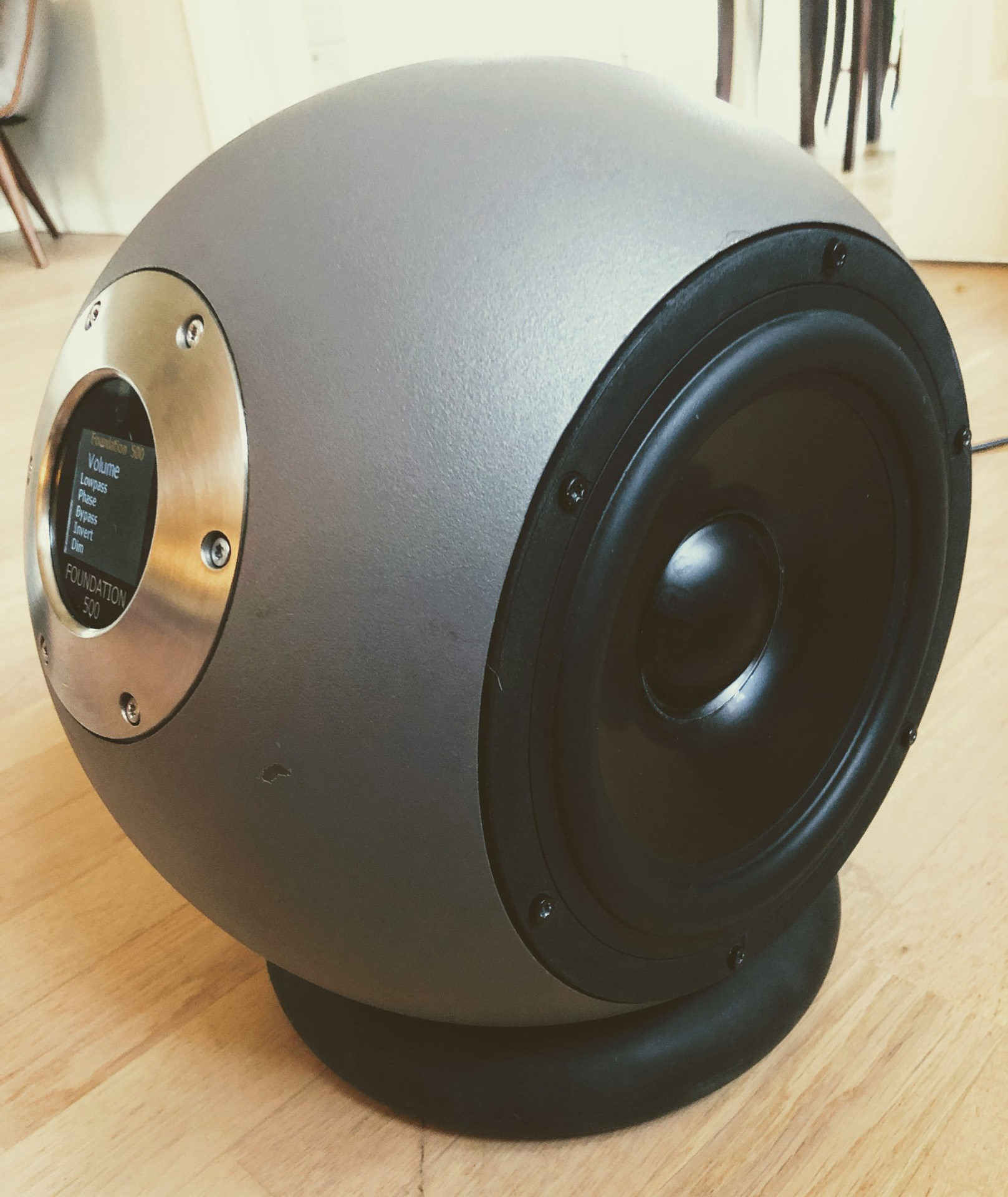 Jern Foundation F500 subwoofer (Photo: Jern Speakers)
Also on show is the Jern Foundation F500 subwoofer (we hope it's NOT the weight!) with two opposing woofers and built-in amplifier.
We'll be back with a test when the Jern 35 is available. But at the time of writing, there exist only two sets in the world. The price will from the outset be €20,000 for at pair.
John Hvidlykke